A well-executed content marketing campaign can yield incredible long-term results.
THE CHALLENGE:
At the height of the opioid crisis in 2019, news organizations, local leaders, and lawmakers were discussing the best ways to combat the significant spike in deaths that had occurred over the two preceding years. Medically assisted treatment options, rehabilitative services, and long-term aftercare recovery were all part of the discussion. We had several goals at the outset of the content marketing campaign. First, we wanted to position our client, The GateHouse, as a local and statewide leader in long-term residential aftercare recovery. Next, we wanted to dispel some of the myths and false narratives that existed about residential recovery treatment facilities in general. Finally, we wanted to bring attention to the opioid crisis and emphasize the role of The GateHouse in fighting it.
THE SOLUTION: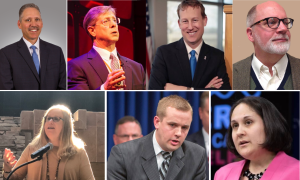 Our strategy was to reach out to community leaders and elected officials to understand their perspective of the crisis and ask them about the proposed solutions. We would publish the interviews on The GateHouse blog and hope these local and statewide leaders would extol the virtues of residential recovery facilities like the ones offered by The GateHouse.
We began the series in April of 2019 by interviewing the director of the local drug and alcohol commission. We then interviewed a county drug court judge, the county's district attorney, a state senator, and the Pennsylvania House Majority Leader (now the Speaker of the House). Later, we would interview Dr. Rachel Levine, who at the time was the Pennsylvania Secretary of Health, as well as a local state representative, and Jen Smith, Pennsylvania's Drug and Alcohol Programs Secretary.
THE RESULT: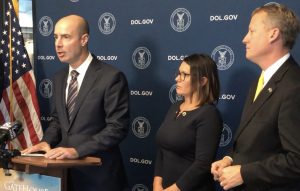 Following our interview with Pennsylvania Majority Leader Bryan Cutler, The GateHouse was contacted by the U.S. Department of Labor. Executive Director Jodi O'Reilly was informed that U.S. Labor Secretary Eugene Scalia wanted to visit Lancaster, PA, to tour a few of The GateHouse facilities and hold a round-table discussion and press conference.
The event, which also included Office of National Drug Control Policy Director Jim Carroll, was covered locally by ABC, Central Penn Business Journal, and more. Following the round table, Secretary Scalia announced that an additional $20 million in grants would be invested to help organizations like The GateHouse continue their battle against the opioid crisis. This announcement bumped the story to the national level, where it also briefly appeared on major news networks such as CNN and Fox News.
Not only did Scalia's visit give residential aftercare recovery programs in the community and across the state a legitimacy they had long been seeking, but it also resulted in national and statewide recognition of The GateHouse as a leader in the fight against opioids specifically and drug and alcohol abuse generally.