Is It Time for Small Budget Advertisers to Rethink Twitter?
Whether you agree or disagree with how Twitter has deployed its content moderation policy over the last five years, one thing about it is undeniable: it has been a major distraction for the social media platform.
And whether you agree or disagree that Elon Musk is the right owner for Twitter, one thig about him is undeniable: he's a billionaire who knows how to make money in the technology sector.
Those two elements, Twitter's years-long distraction with content moderation and Musk's years-long ability to make money, could lie at the heart of a new dawn for the social media platform—a dawn that brightens the future for small-budget social media advertisers.
Twitter's Vexing Advertising Issue
Twitter has been no friend to small-budget advertisers over the years.
The major issue smaller advertisers have with Twitter is, to put it bluntly, a frustrating lack of ROI. We've run several ad campaigns on Twitter for several different types of small to mid-sized businesses across several different types of industries and have had exactly no luck with any of them. Lest you believe the issue was with the digital agency creating and running those campaigns (us), those same ads yielded excellent results on alternative social media platforms.
After trying and failing for years, we finally began recommending our small-brand clients avoid advertising on Twitter, simply because it has had such little return on investment. This decision had nothing to do with our like or dislike of the platform. It did, however, have everything to do with our desire to deliver bona fide results for our clients.
The $44 billion question that Musk now needs to answer: "Why is ROI so hard to come by for small brands who invest in Twitter ads?"
It's an important question. After all, Twitter's targeting parameters are actually much better than Facebook's (which at one time set the standard for ad targeting). Twitter's ad platform is also a little easier to use, contains just as many options, and offers fairly intuitive analytics. All of this would make for a much better experience for small advertisers … if it weren't for that pesky issue of zero ROI.
Twitter's Innovation Stagnation
Which brings us directly to the content moderation issue.
Twitter's disproportionate focus on, furtherance of, and defensiveness surrounding content moderation over the last several years has unquestionably sunk it into an innovation malaise. The moderation debate has been a major distraction that has taken the pursuit of innovation completely off Twitter's priority list.
This distraction is partly to blame for Twitter's legendary struggle to turn a profit. To put it in context: the search engine Bing (yes, that Bing—the search portal you probably don't use) nearly doubled Twitter's top-line ad revenue number in 2021 ($8.52 billion to $5 billion).
Bing.
While other social media platforms have developed new advertising innovations over the last several years in areas such as messaging ads, remarketing ads, video ads, etc., Twitter has stagnated. Sure, it offers great insights into campaigns and provides real-time recommendations for campaign improvements, but can anyone name a single ad innovation Twitter has come up with during the last five years that wasn't first implemented by another social media platform? No? That's a problem. Social media is obviously a copycat industry, but usually, it is the big tech platforms that are leading the innovation (or purchasing it), rather than catching up with it.
The last major innovation that we can recall coming from Twitter was Twitter Live, which was introduced in 2016 after the company's purchase of Periscope. And the results were mixed (at best). To this day, many users still believe Periscope was superior to Twitter Live, the product it ultimately became. Not coincidentally, the hashtag #Perisocope began trending on Twitter the weekend after Musk's purchase closing, with many users calling on the billionaire to reinstate its full and glorious return.
Under Musk, Twitter now has the opportunity to become an industry innovation leader, not a follower. Soon after Musk fired Twitter's executive team (mere moments after taking the reins of the social media company),reports began to surface that Twitter was implementing a subscription model that would see "blue checks" (verified Twitter users with a large number of followers) pay $8 per month for a subscription to Twitter Blue or risk losing the blue checkmark next to their handle.
Whether you agree or disagree with Musk's decision in this regard, innovation is clearly coming to Twitter.
Betting on Musk
It should be noted that Musk is—or was—not  a fan of advertising. In a now-deleted tweet written shortly before his opening bid to purchase the platform, Musk mused, "The power of corporations to dictate policy is greatly enhanced if Twitter depends on advertising money to survive."
Not exactly encouraging words for advertising innovation on the platform. Right?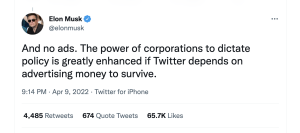 The day he purchased Twitter, however, Musk sang a different tune. He released a statement re-characterizing his position on the subject by extolling the virtues of advertising (when done right). He went even further, by offering his vision of what advertising should look like on Twitter.
"Fundamentally," he wrote, "Twitter aspires to be the most respected advertising platform in the world …"
For a guy who built his businesses at the intersection of technology, finance, and science, his skepticism regarding advertising was understandable. It is also unsurprising that Musk's opinion about digital ads appears to have changed after his due diligence during the acquisition period.
Dear Twitter Advertisers pic.twitter.com/GMwHmInPAS

— Elon Musk (@elonmusk) October 27, 2022
From the start, Musk appears to have understood that Twitter needs to become a profitable company. The bet is whether he will revamp Twitter ads to make them more viable for small-budget advertisers. To do that, the Musk-owned Twitter will need to find a way to emphasize and foster the value exchange between small advertisers and Twitter's ad platform. The more ROI the advertiser sees, the more money they'll spend to get it. That's a pathway to profit.
Want to know a startling statistic? More than 99 percent of the U.S. economy is made up of businesses with 500 employees or fewer. Want another? Sixty-two percent of all jobs created in the U.S. between 1995 and 2020 were thanks to small businesses.
Now, it should be noted that small businesses do advertise on Twitter, and certainly, there might be some who have "gone viral" with tweets that have helped them scale. But that's just not the average story with Twitter. Most of the brands that are advertising are looking for national or global audiences. And most of those brands didn't scale because of Twitter.
He might be a billionaire, but it's a solid bet that Elon Musk understands the direction the economy is headed and understands that giving away the vast market share of small business advertising to the likes of Facebook and Instagram just isn't a viable way forward anymore.
What's Next for Twitter?
Nobody knows what's next for Twitter, but if the Twitter Blue rumors are true, Musk is looking to monetize the platform and not just through ads.
Taking a jaundiced eye to the situation, though, several factors are hard to miss.
The marketing environment is ripe for social media innovation.
Twitter's chief competitors are all adding new features and working to improve their users' experiences. In Facebook's case, the innovations are actually driving people (and advertisers) away from the platform (ask any page owner/manager how their Facebook experience is going, and you're bound to receive a glare in return). This is good news for Twitter because the company has the opportunity to move into some new territory and start to improve its algorithm, its ads, and its brand.
For several years, Twitter users have lobbied the company for a way to edit tweets publicly. That innovation finally arrived in September 2022. When an "edit" button is the latest advancement to your tech platform, it's time to rethink your entire innovation strategy.
Twitter bots are real, and they need to go. Bots aren't exclusive to Twitter, but unfortunately, Twitter has become well-known for its bots, more so than just about any other social platform. Twitter's ad platform allows you to target ads down to an individual user's followers, but bots wreck the metrics. Eliminating bot accounts and cracking down on users who traffic in them would go a long way toward pulling small-budget advertisers into the platform and delivering meaningful and quantifiable ROI.
The coming curiosity factor.
Musk's purchase of Twitter is forcing everyone to rethink their experience with the platform. People and brands of every stripe are intently watching what happens in the coming weeks and months. That's a good thing for advertisers because it means there will be more (human) eyes on the feeds.
While several major brands are putting a pause on their Twitter advertising until they better "understand the direction of the platform under new ownership," there's no reason to think the advertising environment will get worse on Twitter for smaller organizations. If anything, Musk's desire to monetize should improve ad quality and ROI.
For the cautious, maybe now isn't the time to start advertising on Twitter (especially if you're a Tesla or SpaceX competitor). But if ever there were a time to create a business or ad account, now is definitely that time. Because if Musk and his team start to improve the ad environment for small-budget advertisers, there will be a mad dash for Twitter ROI.
If you need help with your social media or are looking for guidance on setting up or managing Twitter ads, contact us today or give us a call at 717-381-5385.