Presentations
That Command Attention
Well-written and visually stunning presentations can showcase your expertise, dazzle your audiences, and attract high-quality leads.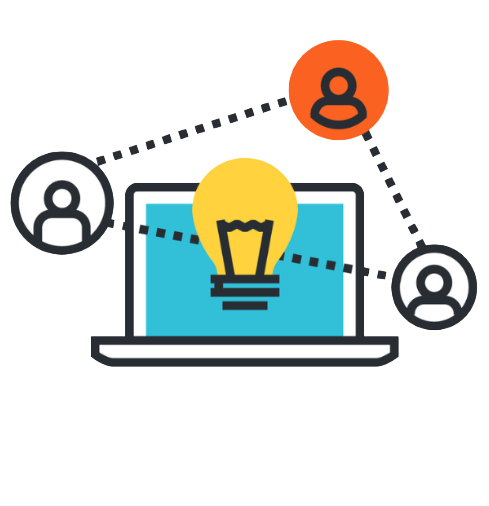 Present Confidently With Professional Presentations
Presentations are opportunities to wow your audience and win hearts, minds, and business. By delivering information clearly and compellingly, you'll give your prospects and clients confidence in their decision to choose you.
People are bombarded each day with so much information and data that it can be challenging to cut through the noise. But when you have a well-designed presentation expertly tailored to your audience, you can capture their attention and leave a lasting impression.
Well-designed and skillfully delivered presentations matter because:
They tell a story.
Your business likely has a unique background that sets it apart. Presentations let you share this story in an engaging, visual format.
They showcase products and services.
Presentations are an ideal medium for conveying information about new products and services—providing an opportunity to highlight features, benefits, and pricing through infographics, images, and video.
They strengthen brand identity.
Studies have shown that 70% of purchase decisions are based on emotion rather than logic. Because presentations incorporate speech, visuals, and even video—they can connect with an audience on a more emotional level than other types of communication, which reinforces brand identity.
A well-designed presentation will:
Engage through emotion

Empathize with the audience

Be succinct and clear

Tell a story
How We Create Presentations That Inform, Persuade, and Sell
We create high-quality presentations for any occasion—from company-wide quarterly reports to pitch decks and more.
An effective presentation conveys your message clearly and generates interest and excitement—convincing your audience to act. We'll help you develop a compelling presentation from concept to completion.
Here's how we can help you create an impactful presentation:
Tailor your message to your audience.
Whether you're pitching a new idea or giving a sales presentation, you want your audience to understand your message and be motivated to act. To achieve this, it's essential to understand your audience. Who are they? What do they know about your topic? How can you help them?
When designing your presentation, we'll first consider your audience. Once we thoroughly understand who they are, what they want, and how your business can help, we'll craft a compelling message that will resonate with them.
Create visuals that reinforce your message.
Text-heavy presentations can feel dry and monotonous. We'll help you find visuals that illustrate and support your content and reinforce your message.
Create a presentation that reinforces your brand identity.
Once we have all the background information and content for a slide deck, we'll create a polished presentation reflecting your brand personality and identity.
Ready to Get Started?
If you want your company's presentations to engage, convert, and leave a lasting impact, call us at 717-381-5385 or contact us today!